THE JOURNEY STARTS HERE…
The Slinger
Slinger Description
All golfers share one thing in common. They all want to get better. From the top tour professionals to the once a week player everyone wants to improve there golf swing. If there was a top golf instructor charging $1000 for a half hour but you were guaranteed after taking the lesson to be a scratch golfer everyone would pay it.
The technology being used today for golf courses, golf clubs, golf balls is better than ever. The technology being used in golf instruction is better than ever. Our ability to get stronger and more fit today is easier than ever. With all this new technology available the average score is still 100 for 18 holes.
We feel with the unique design of the Slinger golfers can now have the one tool that they can take with them wherever they go. The length of the Slinger was designed to make it portable and be able to swing indoors or outdoors. The swing weight is very similar to a normal 5 iron so you can feel the club head. The state of the art club face and cup design helps you identify and fix virtually every swing flaw possible. The ball will not come out of the cup straight and with velocity unless you are swinging within the parameters taught by SlingerGolf professionals.
The Slinger is very simple to use. Set up like you would for a normal 5 or 6 iron. To get the feel of how the club swings start with our toe up drill. Stay with this drill until you can make the ball come out straight and with some velocity. Refer to our 9 zone matrix to learn and fix errors that may be occurring.
To better improve your swing and the performance of The Slinger, please refer to our Golf Ball Flight Analysis Grid and swing matrix below.
Golf Training Made Simple is a golf training course written by the inventor of The Slinger, Bruce Hubley. Using this couse you will shave strokes off your game and increase drive distance and accuracy. For a limited time it is FREE to download. Click here to get started.
Bradley Hughes, Two Time Australian Masters Champion explains the benefits of The Slinger
"The Slinger is the first and only golf instructional tool that I've put my name to. I find it's a great way to learn how the ball would separate off the club face, and we get instant feedback by watching were the ball goes based on how we came to use our body to release the club head and to get the strike. The Slinger is best training aid for golf I've ever seen" Bradley Hughes.
Do's and Don't's with the Slinger
Two Things You Must Do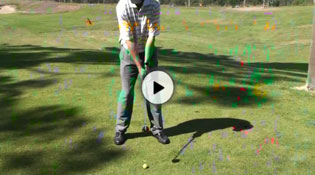 Replace Red Clip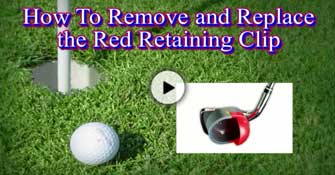 Swing Set Up Elements, Essential for Beginners, High handicap golfers..struggling players
Body Motion Drill